DAVID'S VINTAGE SNOWMOBILE PAGE.
RESTORING THE SPORT ONE PIECE AT A TIME.
PAGE 17,108
---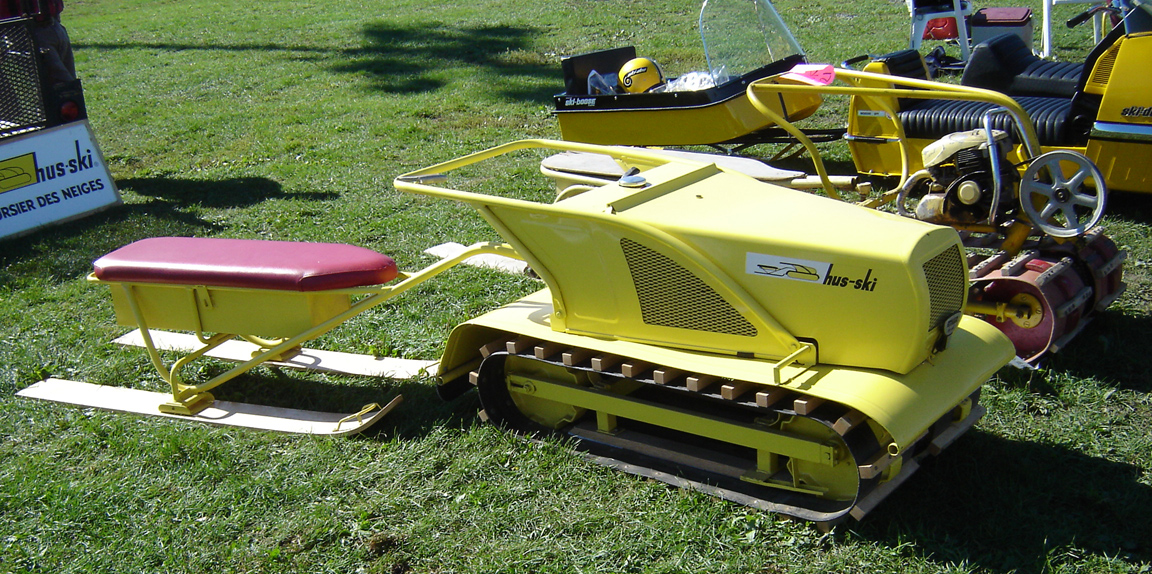 HUS SKI SNOWMOBILE BRAND HISTORY
The attached photo shows the 1958 / 1959 Hus Ski prototype beside the
first production model, a 1963 HUS-SKI SNOW TRAVELLER.
THE FOLLOWING PAGES WILL HAVE A HISTORICAL LOOK INTO HUS SKI SNOWMOBILES.
BARRIE GRAHAM SENT ME THIS PICTURE WITH THE FOLLOWING TEXT.
David - This prototype was made and tested in the Lachute area where the
McOuat brothers owned property. This prototype was developed after
their first seeing the idea of Theoplile and Tuff Goulet from
Rouyn-Roranda. The Goulet brothers were the first to come up with the
idea of a chainsaw propelling you to the bush where you would remove
the saw head , reinstall the bar and procede to cut wood all day.
At the end of the day the procedure would be reversed and you could ride home.
THANKS BARRIE FOR THE GREAT PICTURES !