DAVID'S VINTAGE SNOWMOBILE PAGE.
RESTORING THE SPORT ONE PIECE AT A TIME.
PAGE 17,446
---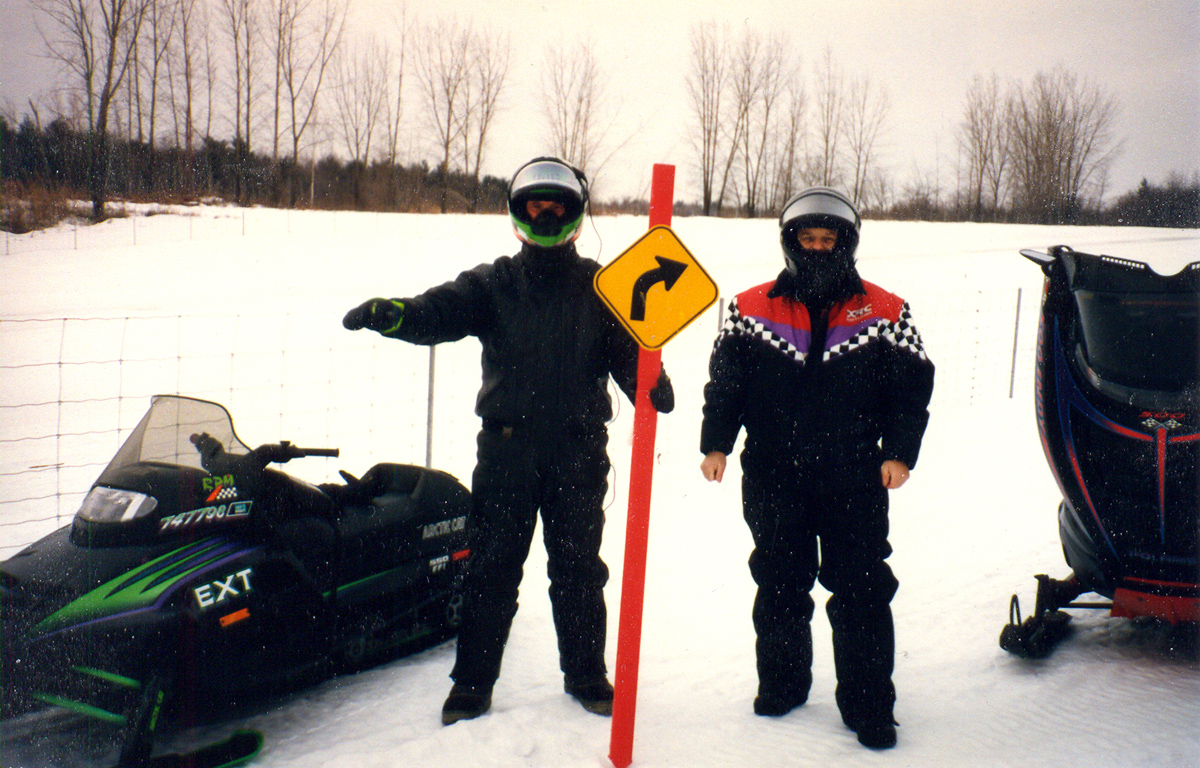 TERRY GOODWIN ( LEFT )
1955 - 2013
I WOULD LIKE TO TAKE THIS OPPORTUNITY TO REMEMBER MY GREAT FRIEND TERRY GOODWIN.
TERRY PASSED AWAY SUDDENLY ON SUNDAY, FEBRUARY 17, 2013 AFTER A SHORT STAY IN THE HOSPITAL.
IT CAME AS A HUGE SHOCK TO ME AS TERRY AND I WERE EMAILING JUST DAYS BEFORE HE WENT TO THE HOSPITAL.
IN JANUARY 2013, TERRY WAS TELLING ME THAT..............
Terry Wrote - Time to go over the sled & change oil + maybe an idler wheel or so.
Not sure what kind of shape the local trails are in
(Montpellier & up towards Mont Laurier) With all that rain.
Happy New yr. - hope all is well, & everyone has a great year.
TERRY HAD RECENTLY BOUGHT A YAMAHA SNOWMOBILE AND WAS ALWAYS EXCITED TO GET OUT ON THE TRAILS.
THE PICTURE ABOVE SHOWS TERRY AND I IN 1997 ON THE TRAILS IN LAVAL, QUÉBEC.
TERRY WORKED FOR CARELTON UNIVERSITY IN OTTAWA AND HAD TAKEN EARLY RETIREMENT IN JULY 2012.
IT IS HORRIBLE THAT TERRY DID NOT LIVE LONG ENOUGH TO ENJOY HIS RETIREMENT AS I DO NOT KNOW OF ANYONE WHO
LOVED THE OUTDOORS MORE THAN TERRY. SOME OF HIS FAVORITE THINGS TO DO WERE SNOWMOBILE, RIDE AN ATV, HUNT WITH
HIS BUDDIES, GO TO FLORIDA TO SEE FAMILY, SEE NASCAR AND VISIT FAMILY IN QUÉBEC.
I FIRST MET TERRY IN THE EARLY 1990'S WHEN THE INTERNET WAS JUST STARTING TO GET POPULAR.
I FOUND THIS ALT.SNOWMOBILE SITE WHERE PEOPLE WERE CHATTING ABOUT SNOWMOBILES.
JEAN MENARD WAS ON THAT SITE AND CREATED, TO MY KNOWLEDGE, THE FIRST INTERNET SNOWMOBILE RIDE.
IT WAS HELD IN QUÉBEC AND TERRY, MY FRIEND DAN AND MYSELF WENT TO PARTICIPATE.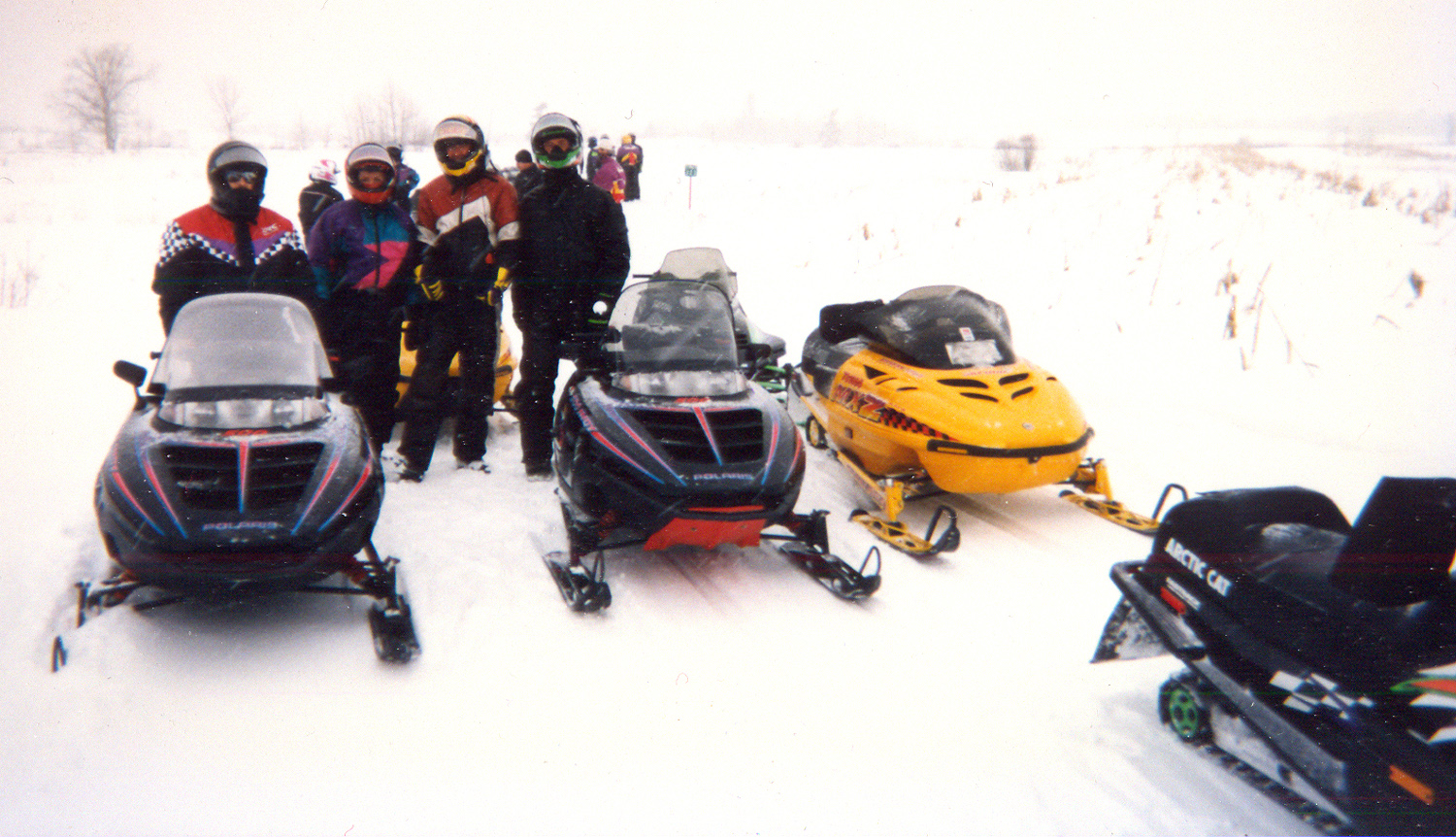 HERE IS A PICTURE FROM THAT RIDE.
I AM ON THE LEFT, TERRY ON THE RIGHT, REGGIE AND HIS WIFE IN THE MIDDLE.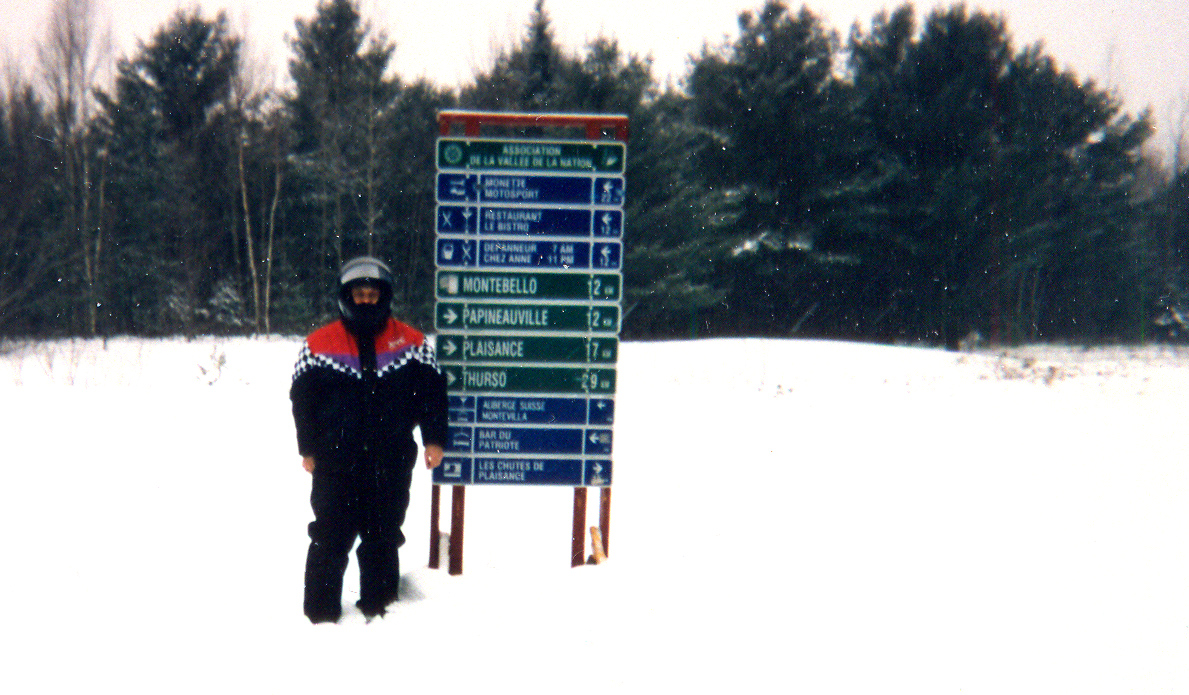 ANOTHER PICTURE ON THE WAY TO THE RIDE.

THIS WAS TERRY'S FAVORITE PLACE TO EAT IN MONTREAL - BAR B BARN ON SOURCES BOULEVARD.
TERRY WOULD ALWAYS SAY " I'M GOING TO SMURF DOWN TO MONTREAL - LET'S HAVE LUNCH AT BAR B BARN. "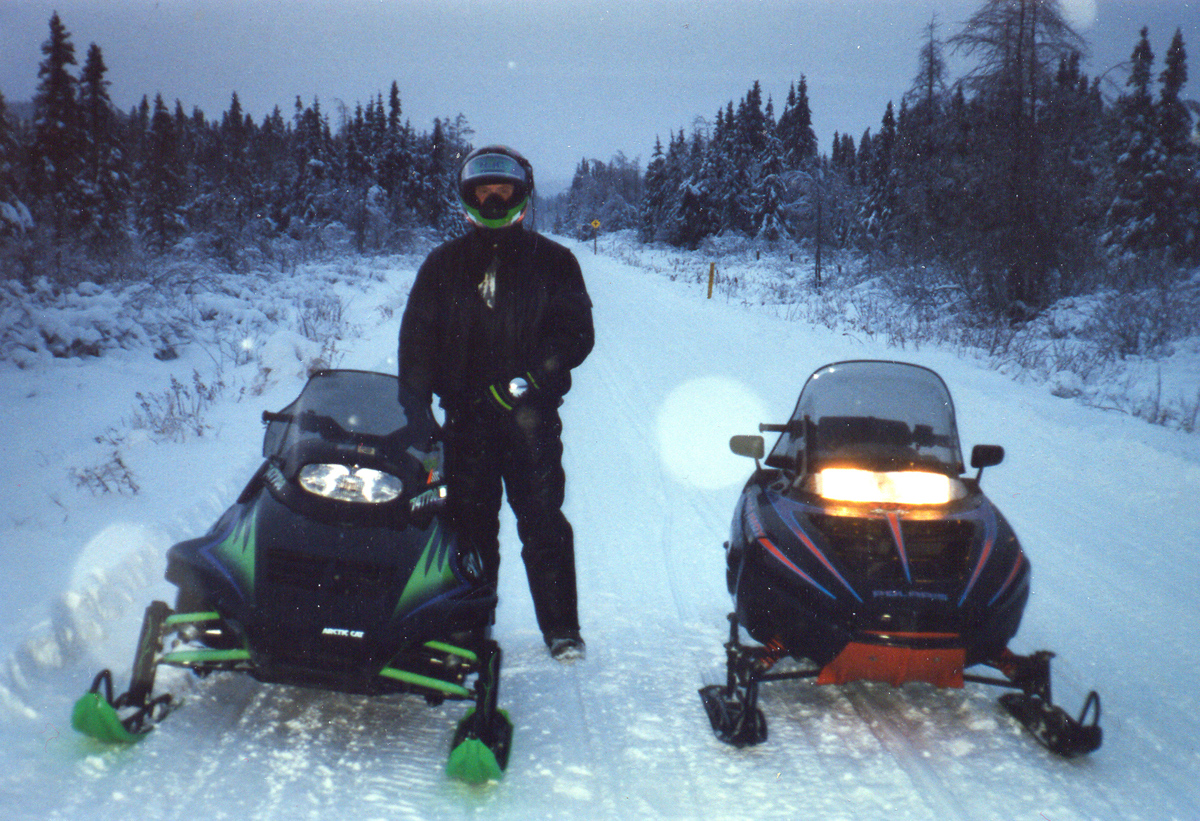 TERRY AND I HAD SOME GREAT RIDES INCLUDING THIS ONE ON THE LINEAR PARC IN THE LAURENTIANS OF QUEBEC.
I ALWAYS ENJOYED SPENDING TIME WITH TERRY, HIS PLEASANT ATTITUDE MADE FOR FUN TIMES.
WHEN I STARTED MY SITE, TERRY LENT ME ABOUT 15 SNOWMOBILE BROCHURES FROM THE 1971 MODEL YEAR.
I SCANNED THEM AND POSTED THEM FOR EVERYONE TO ENJOY.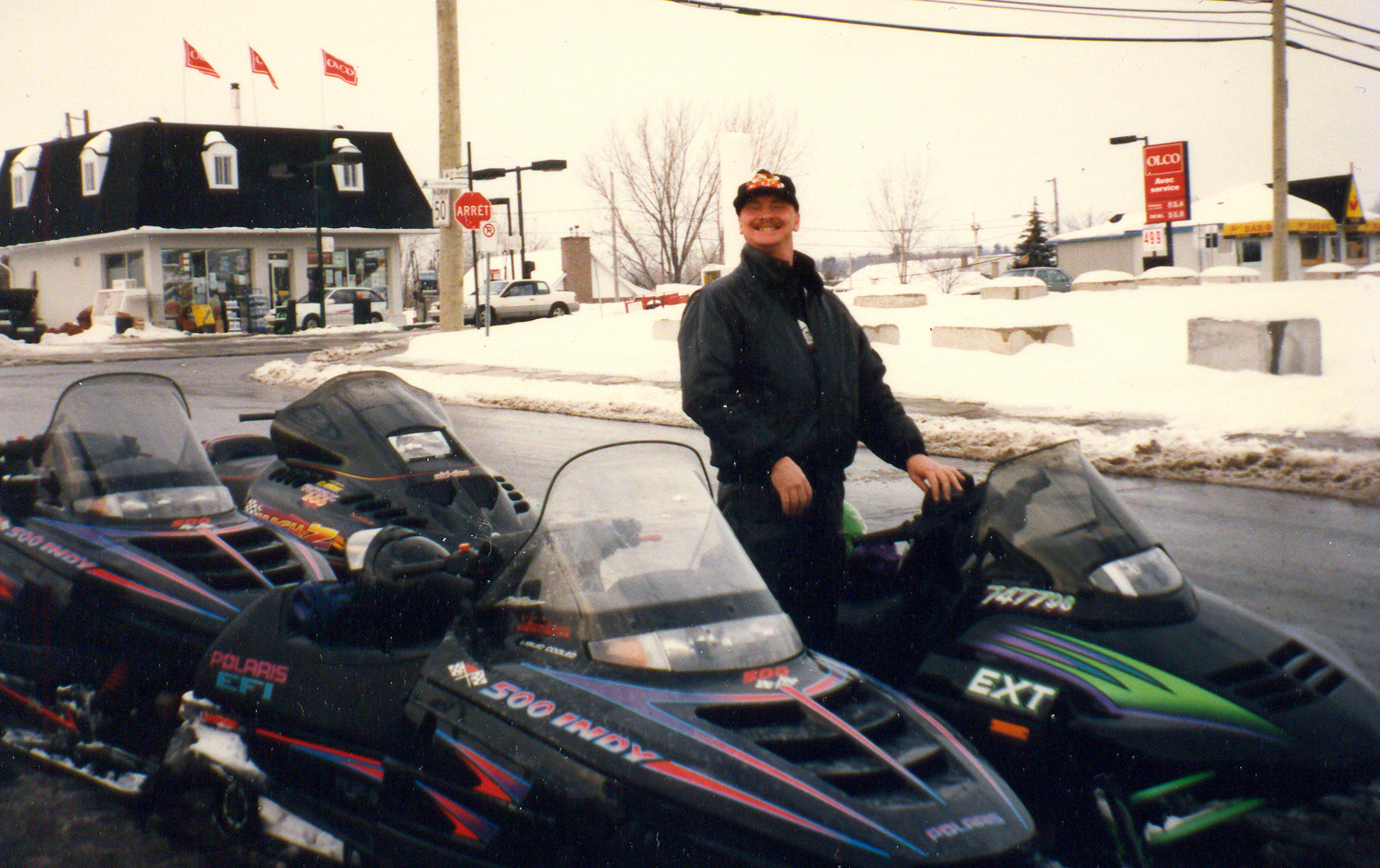 I TOOK THIS PICTURE OF TERRY ON ONE OF OUR RIDES IN 1997 IN BOIS DES FILLION, QUÉBEC, JUST BEFORE CROSSING THE BRIDGE INTO LAVAL.
FOR ANYONE WHO KNEW TERRY, THIS PICTURE SAYS IT ALL.
TERRY LOVED HIS ARCTIC CAT EXT. HE HAD IT FOR MANY YEARS.
HE HAD HUNDREDS OF DIFFERENT ADVENTURES ON THAT SLED.
I CANNOT BEGIN TO TELL YOU HOW MUCH I MISS MY FRIEND.
THANK YOU TERRY FOR THE WONDERFUL MEMORIES THAT YOU GAVE TO ME.
( RIP TERRY )
( IF ANYONE HAS PICTURES OR A STORY OF TERRY OR WOULD LIKE TO LEAVE A COMMENT,
( PLEASE EMAIL ME )
DAVID S.