DAVID'S VINTAGE SNOWMOBILE PAGE.
RESTORING THE SPORT ONE PIECE AT A TIME.
PAGE 17,814
---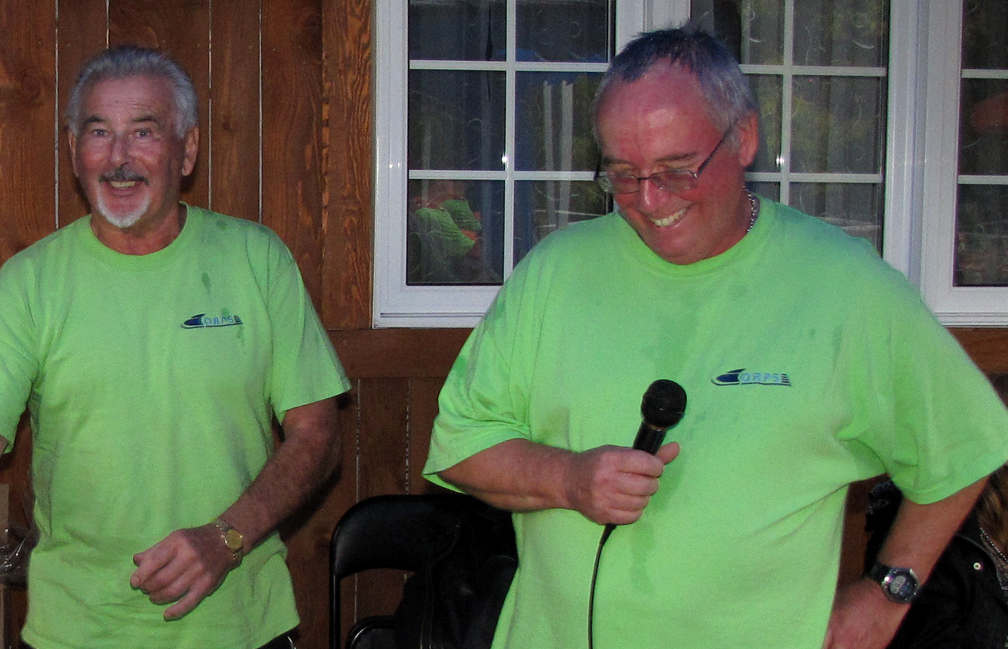 EXPO SNO 2013.
VINTAGE SNOWMOBILE SHOW AND MEGA VINTAGE SNOWMOBILE FLEA MARKET
ST JEROME QUÉBEC - SATURDAY, SEPTEMBER 21, 2013
ON THE VERY FIRST PAGE OF THE EXPO SNO 2013 PICTURES,
I WROTE THE FOLLOWING TEXT...........
SOMETHING EXTREMELY SPECIAL HAPPENED TO ME AT THE END OF THE DAY.
IT WILL TAKE A FEW WEEKS FOR ME TO POST ALL OF THE PICTURES BUT YOU
WILL HAVE TO WAIT TO SEE WHAT A SPECIAL SURPRISE WAS WAITING FOR ME
AT THE END OF THE SHOW. I AM TOTALLY TOUCHED FOR THE KINDNESS OF
SOME VERY SPECIAL PEOPLE.
THANK YOU TO ALL INVOLVED FOR THIS SPECIAL MEMORY !
DAVID.S
---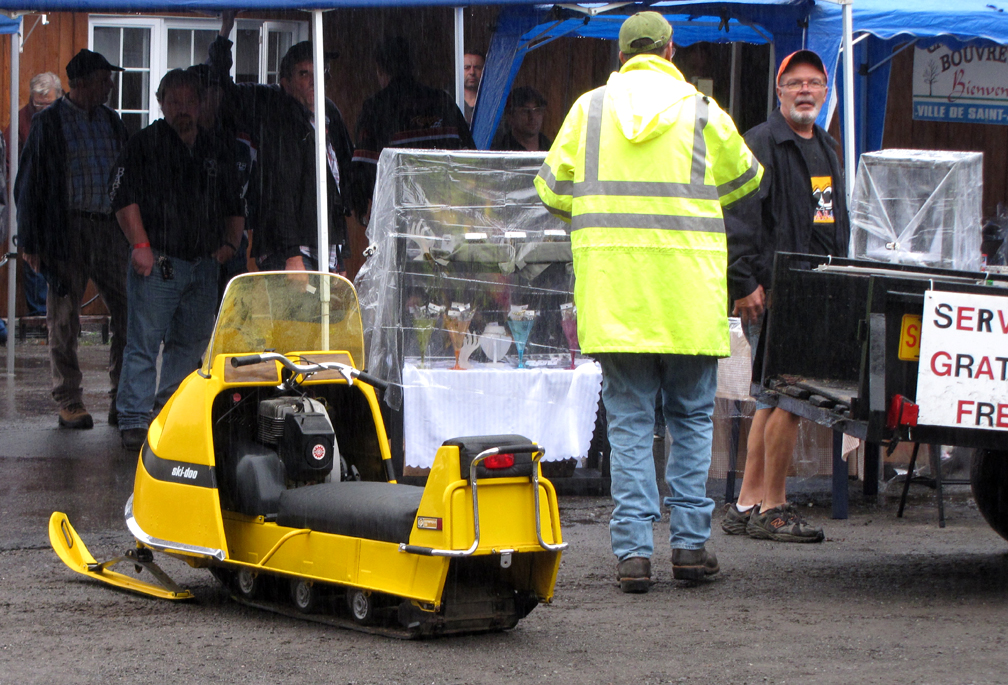 JUST BEFORE THE TROPHY CEREMONY, I WAS SITTING AT A PINIC TABLE WHEN AN ATV DROVE UP WITH
THIS 1970 SKI DOO OLYMPIQUE 335 ON THE TRAILER.
PATRICE AUGER WAS SITTING RIGHT NEXT TO ME AND I SAID.............
" WHAT, ARE WE GIVING A SLED AWAY TODAY ?"
I DID NOT THINK ANY MORE OF IT AND PROCEEDED TO TAKE PICTURES OF THE TROPHY CEREMONY.
RIGHT AFTER THE TROPHY CEREMONY WAS FINISHED, ANDY TAYLOR SAYS THAT THERE IS GOING TO
BE A SPECIAL PRESENTATION TODAY. IT TOOK ME ABOUT 1.5 SECONDS TO REALIZE WHAT WAS ABOUT
TO HAPPEN. I JUST HAPPENED TO LOOK TO MY RIGHT AND RON FESKO WAS STANDING THERE.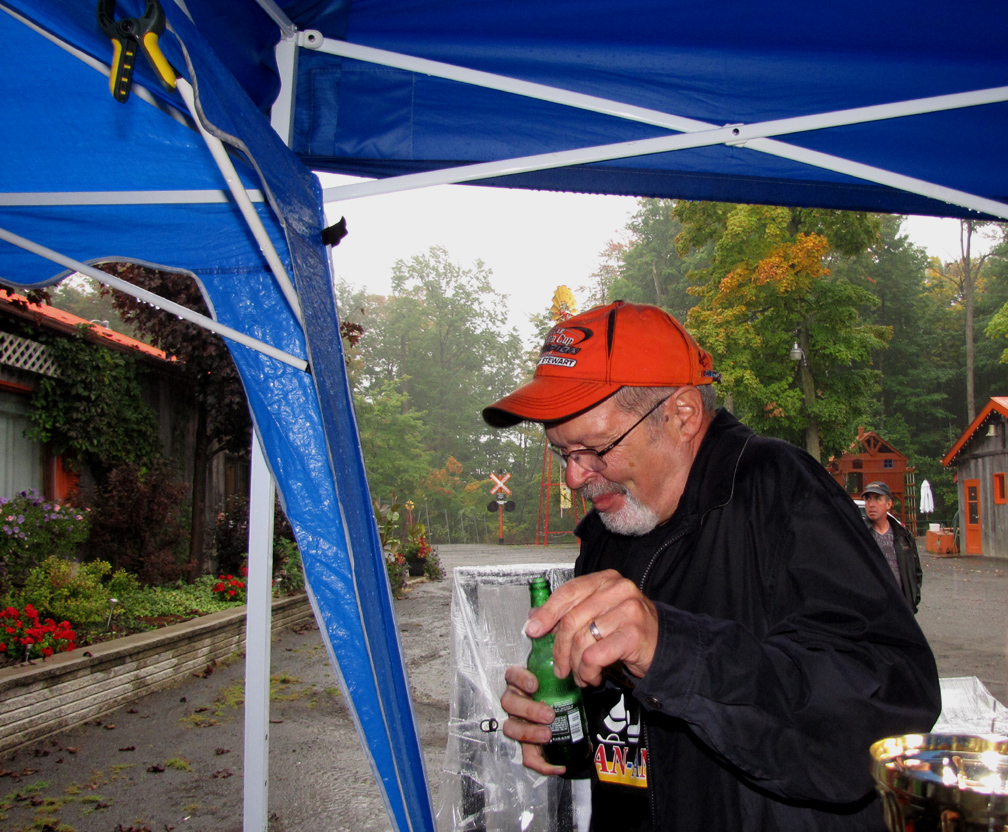 YOU SEE, A FEW WEEKS EARLIER, I SAW RON AT A SHOW AND WAS TELLING HIM HOW MY FIRST SLED WAS
A 1970 SKI DOO OLYMPIQUE 335. MY FATHER BOUGHT ONE FOR US IN DECEMBER 1969.
IN THE EARLY 1990'S, MY FATHER AND BROTHER SOLD THE SLED AND I WAS SORRY THAT OUR FIRST
SNOWMOBILE WAS NOT IN THE FAMILY ANYMORE. LITTLE DID I KNOW, BUT RON CONTACTED
ANDY TAYLOR AND THEY THOUGHT IT WOULD BE WONDERFUL TO SURPRISE ME WITH THIS
INCREDIBLE SLED AT EXPO SNO FOR THE YEARS OF WORK I HAVE DEVOTED TO MY SITE.
TO SAY THAT I WAS SURPRISED, IS AN UNDERSTATMENT.
SO, RIGHT HERE, I WOULD LIKE TO SAY .........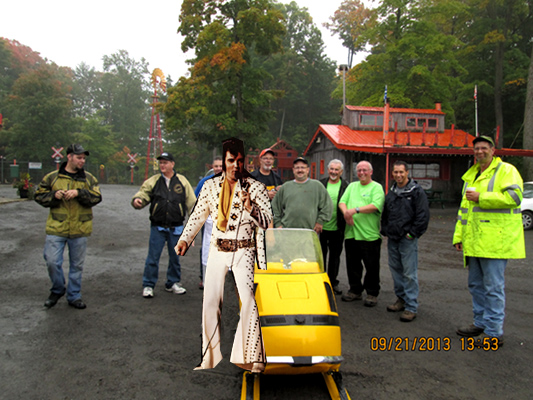 THANK YOU !
THANK YOU VERY MUCH!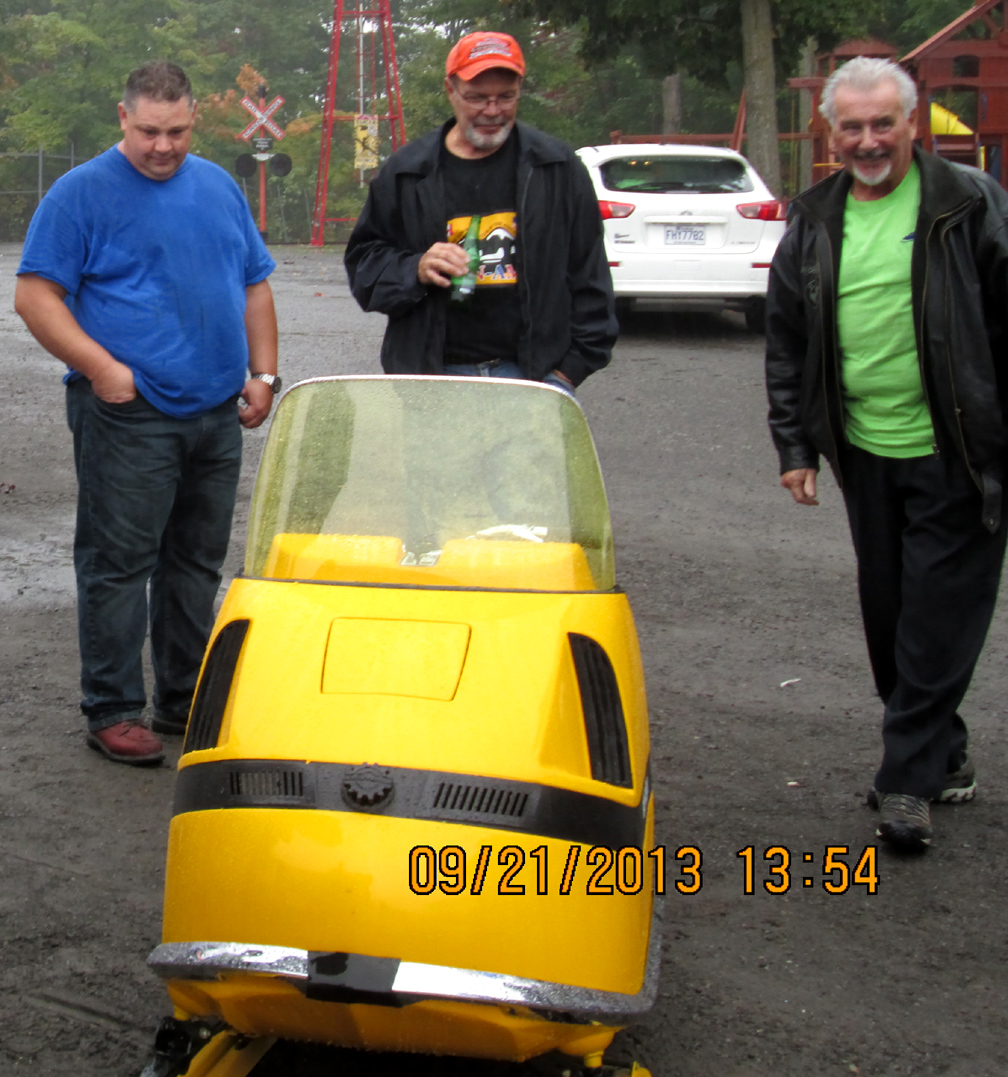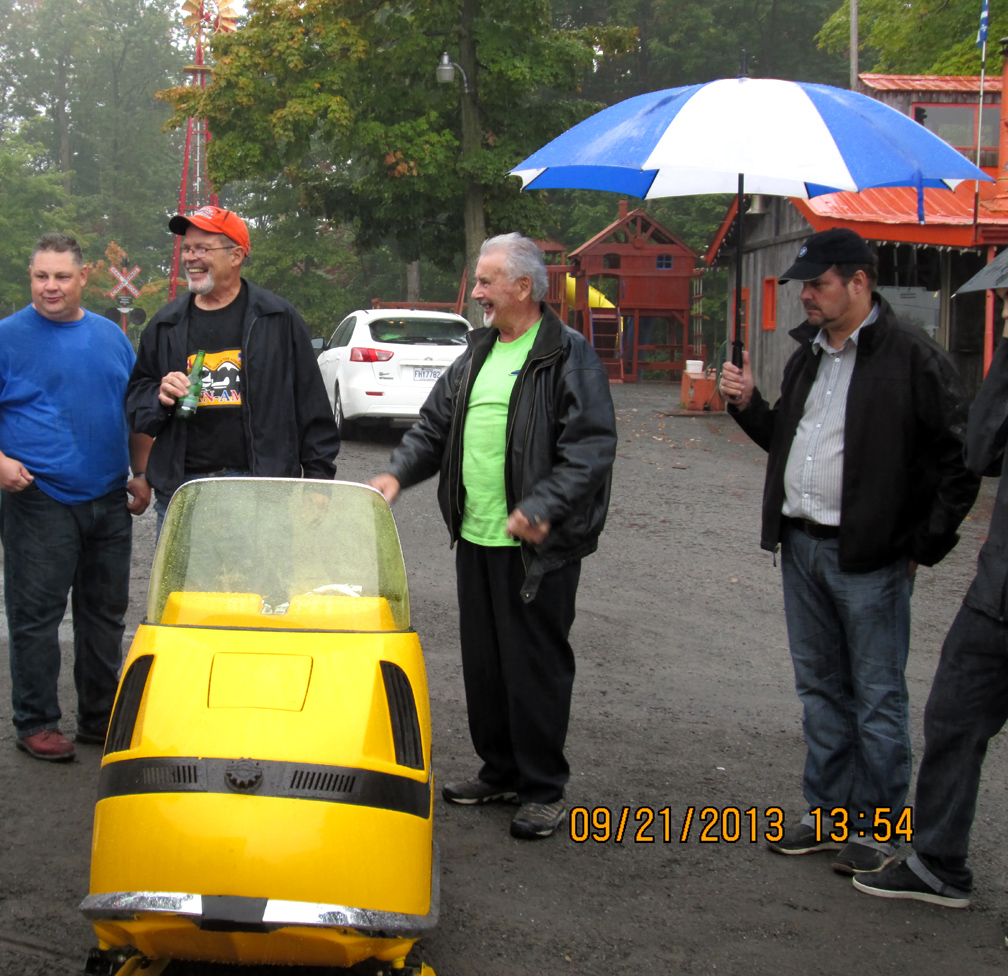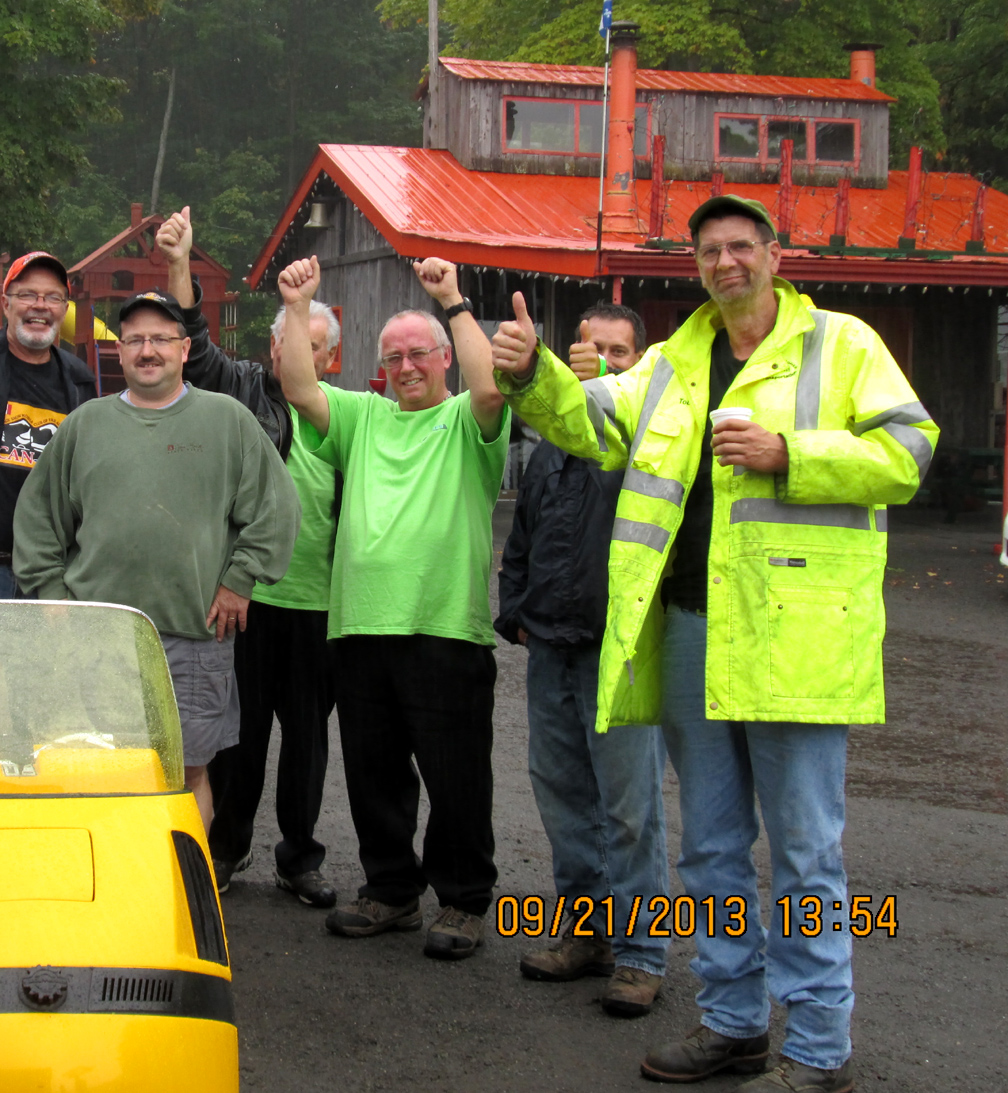 THE FOLLOWING PEOPLE MADE THIS DAY POSSIBLE.
RON FESKO - ANDY TAYLOR - GERMAIN BEAUSÉJOUR - GERMAIN RIVARD - DAN CLANCY - BILL MONETTE
MIKE KNIER - AARON ZEOLI - RICH HAHL - J P BUTCHER - DAVE TAYLOR - LARRY CHASE.
I WOULD LIKE TO THANK EVERYONE WHO DONATED THIS WONDERFUL 1970 SKI DOO OLYMPIQUE 335.
THIS WAS THE FIRST SNOWMOBILE THAT MY FATHER BOUGHT IN DECEMBER 1969.
I AM THRILLED TO HAVE THIS SNOWMOBILE AGAIN. IT MEANS A LOT TO ME.
THANK YOU. DAVID S.
J'aimerais remercier tout le monde qui a contribué à cette motoneige Ski Doo Olympique 335 d'année 1970.
C'était la première motoneige que nous avions eue, lorsque mon père l'a acheté en 1969.
Je suis très heureux et profondément touché d'être le propriétaire de ce modèle qui m'a apporté tellement de joie.