DAVID'S VINTAGE SNOWMOBILE PAGE.
RESTORING THE SPORT ONE PIECE AT A TIME.
PAGE 18,528
---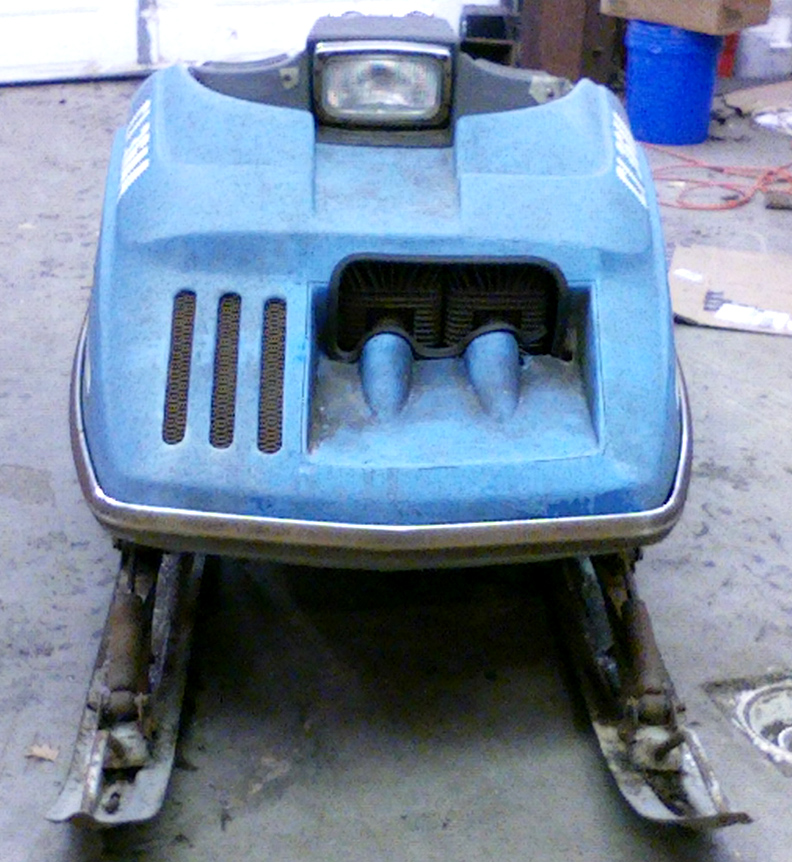 MAY 8 - 2014
1975 AUTO SKI SS 400
DAVID - AARON ZEOLI TIPPED ME OFF TO THIS ONE IN SOUTHERN OHIO LAST OCTOBER. THIS ONE IS # 7.
I HAVE HAD # 6 SINCE 1985 WHEN I SAW IT IN A SNOWMOBILE SALVAGE IN MT PLEASANT, MI.
# 7 HAS THE WHEELED SUSPENSION AND A RUBBER TRACK.
# 6 CAME WITH THE SLIDE SUSPENSION AND CLEATED TRACK LIKE THE MACH.
ONE WILL BE RESTORED FOR SHOWS AND ONE WILL BE A RIDER IN THE FLEET.
I'VE NEVER SEEN ANY OTHER AUTO SKI SS 400 SLEDS OTHER THAN THESE 2. THANKS. GREG MORRIS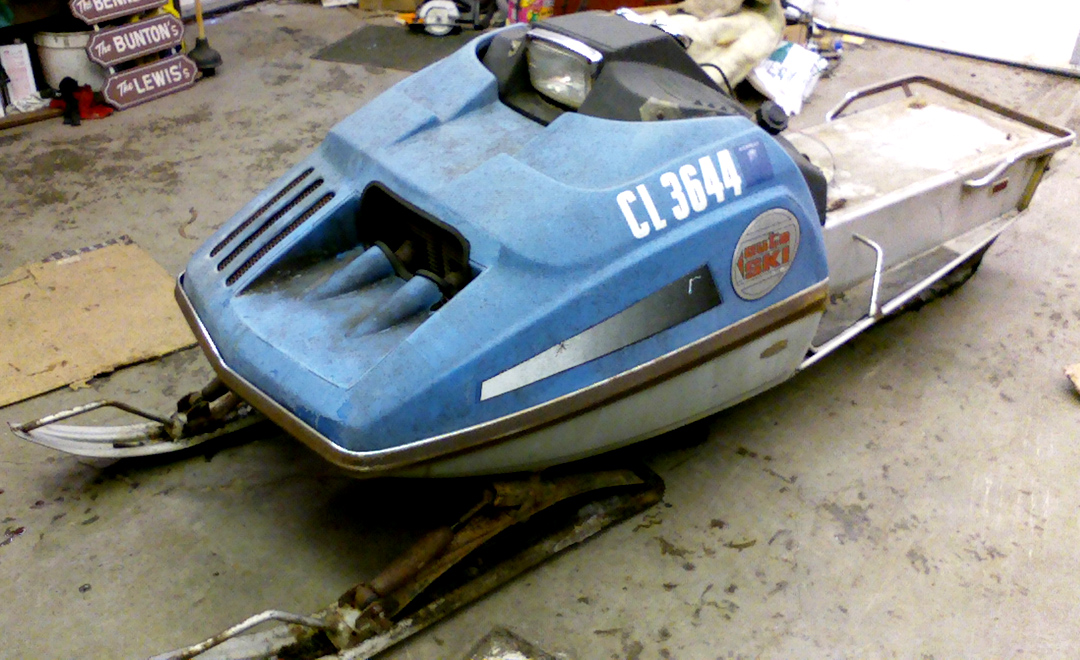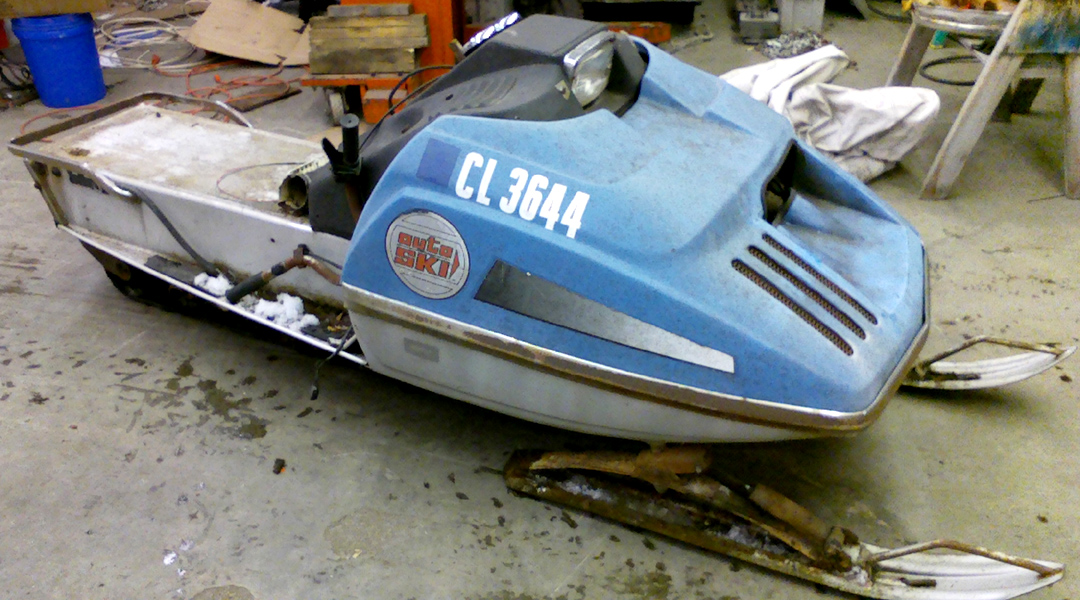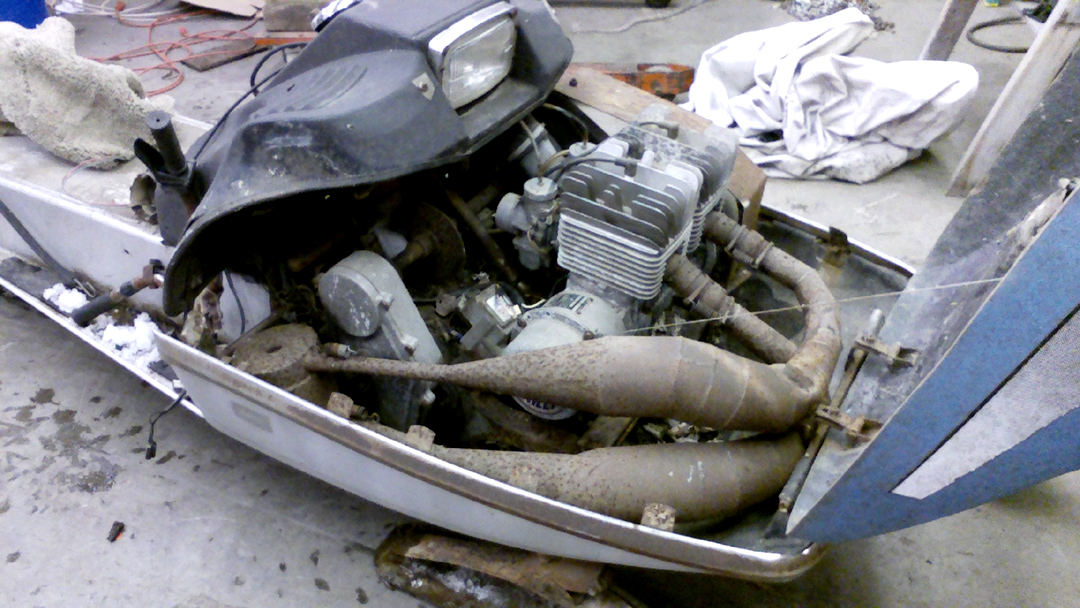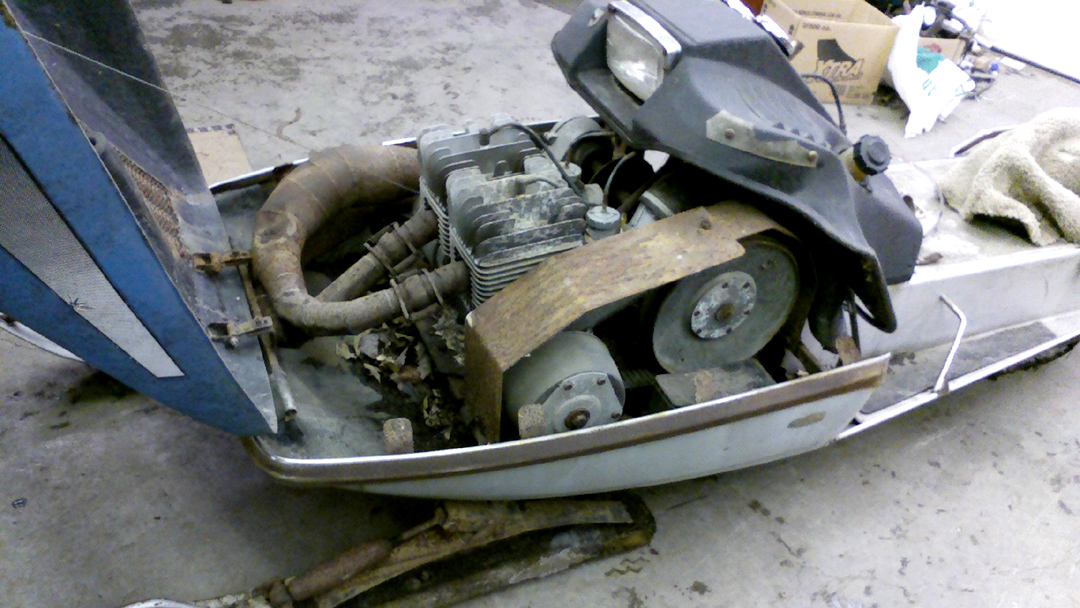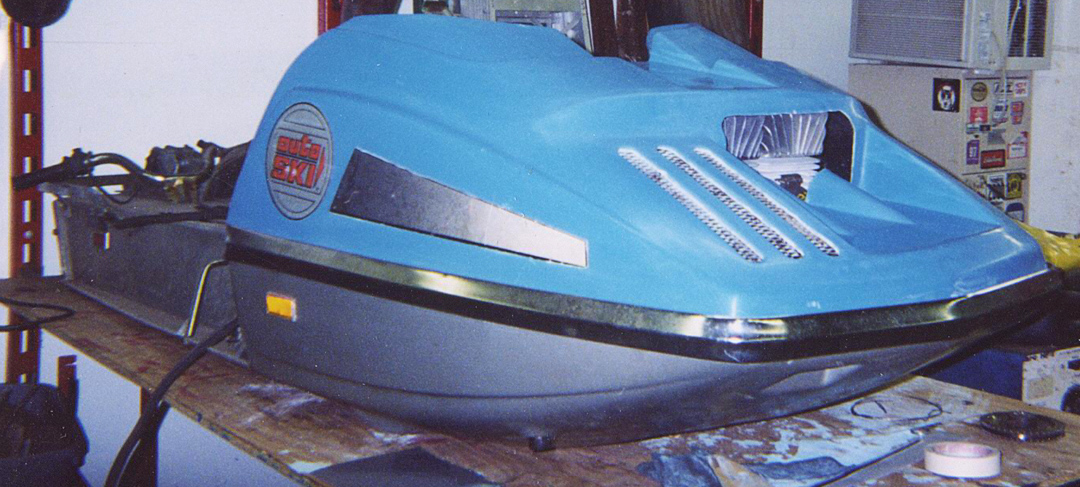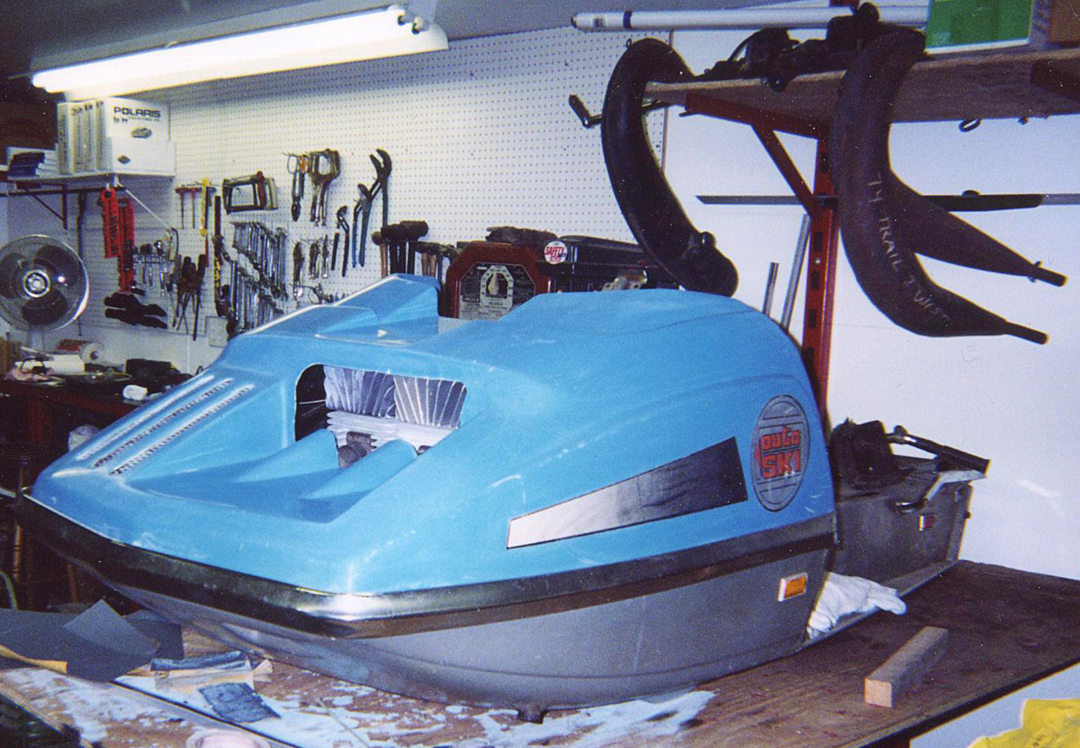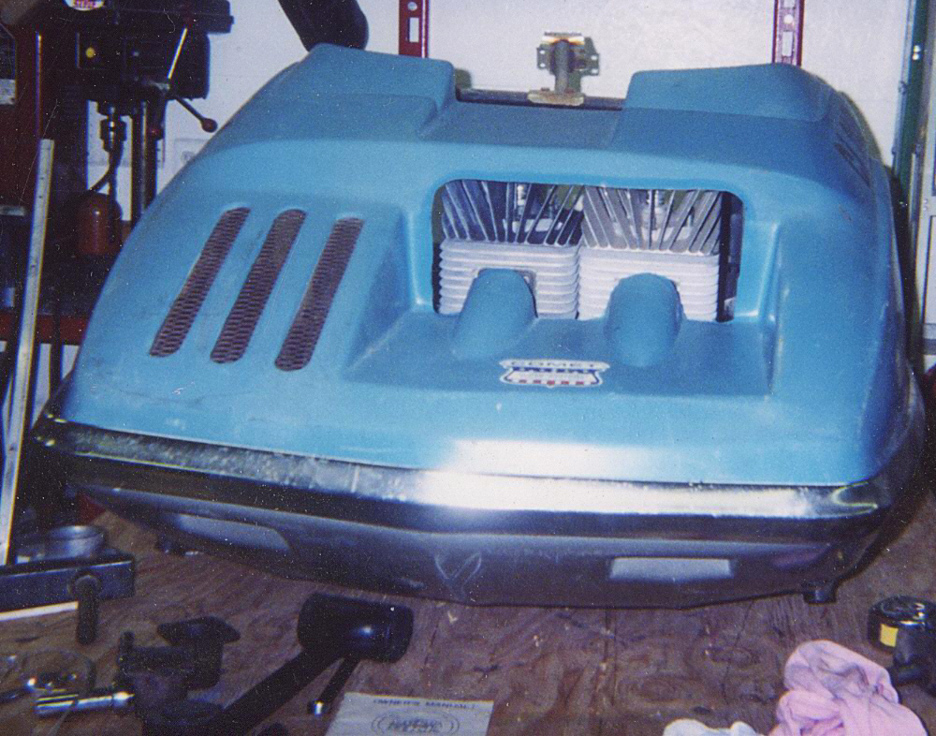 1975 AUTO SKI SS 400 - ABOVE
GREG WILL SEND IN MORE PICTURES WHEN THE SLEDS ARE RESTORED.
---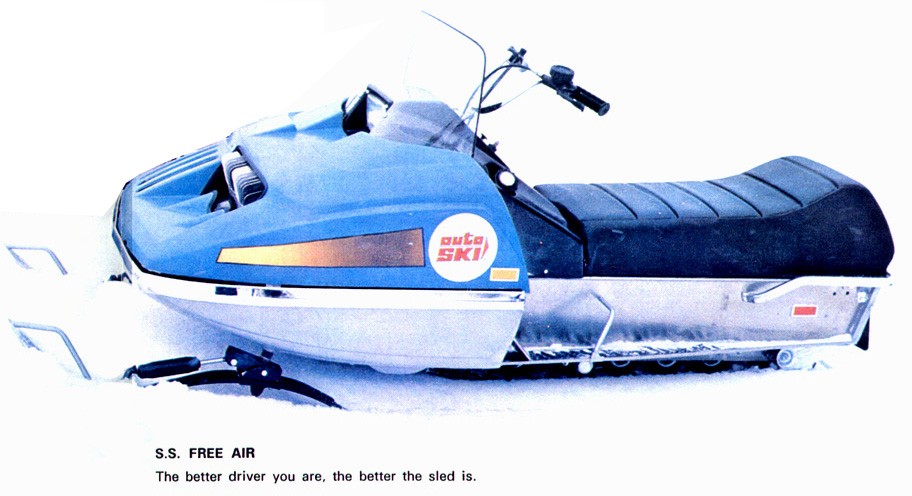 THIS PICTURE IS OF A ( 1974 ) AUTO SKI SS FREE AIR FROM THE 1974 AUTO SKI BROCHURE.
I AM SHOWING YOU THIS PICTURE SO YOU CAN SEE THAT THERE WAS LITTLE DIFFERENCE BETWEEN
THE 1974 AND 1975 AUTO SKI MODELS. HERE'S WHY. READ BELOW WHAT DAVE TAYLOR SAYS.
DAVE TAYLOR WRITES ABOUT PRO AM AND AUTO SKI WHICH WERE BASACIALLY THE SAME COMPANY..........
THE SAME RULES APPLY TO AUTO SKI AND PRO AM FOR THE 1975 MODELS.
PRO AM SNOWMOBILE HISTORY
BY DAVE TAYLOR.
Hi David
The Pro Am lineup of Snowmobiles
were produced for the 1974 model year only.
The 1975 PRO AM were put together with surplus inventory.
We were an Auto Ski Dealer, but sold a bunch of Pro Am Bikes and only a couple Pro Am Sleds.
For the 1975 model it was a free for all / pretty well anybody with cash could buy at the plant in Levis.
For the 1975 model, you could have them with CCW and even Yamaha engines as Auto Ski was
trading excess inventory with Gilles Soucy for engines.
The 1974 Pro Am snowmobiles were identical to the regular Auto Ski
but with a white cab with the red decals.
Auto Ski had 10 models, Pro AM 8 MODELS.
It was indended to increase market share buy offering a second franchise,
this was not a product offered to Auto Ski dealers but new dealerships.
Like the majority of the manufactures it was a last effort to increase sales and penetration.
Dave Taylor
THANKS GREG FOR THE GREAT PICTURES !