DAVID'S VINTAGE SNOWMOBILE PAGE.
RESTORING THE SPORT ONE PIECE AT A TIME.
PAGE 18,769
---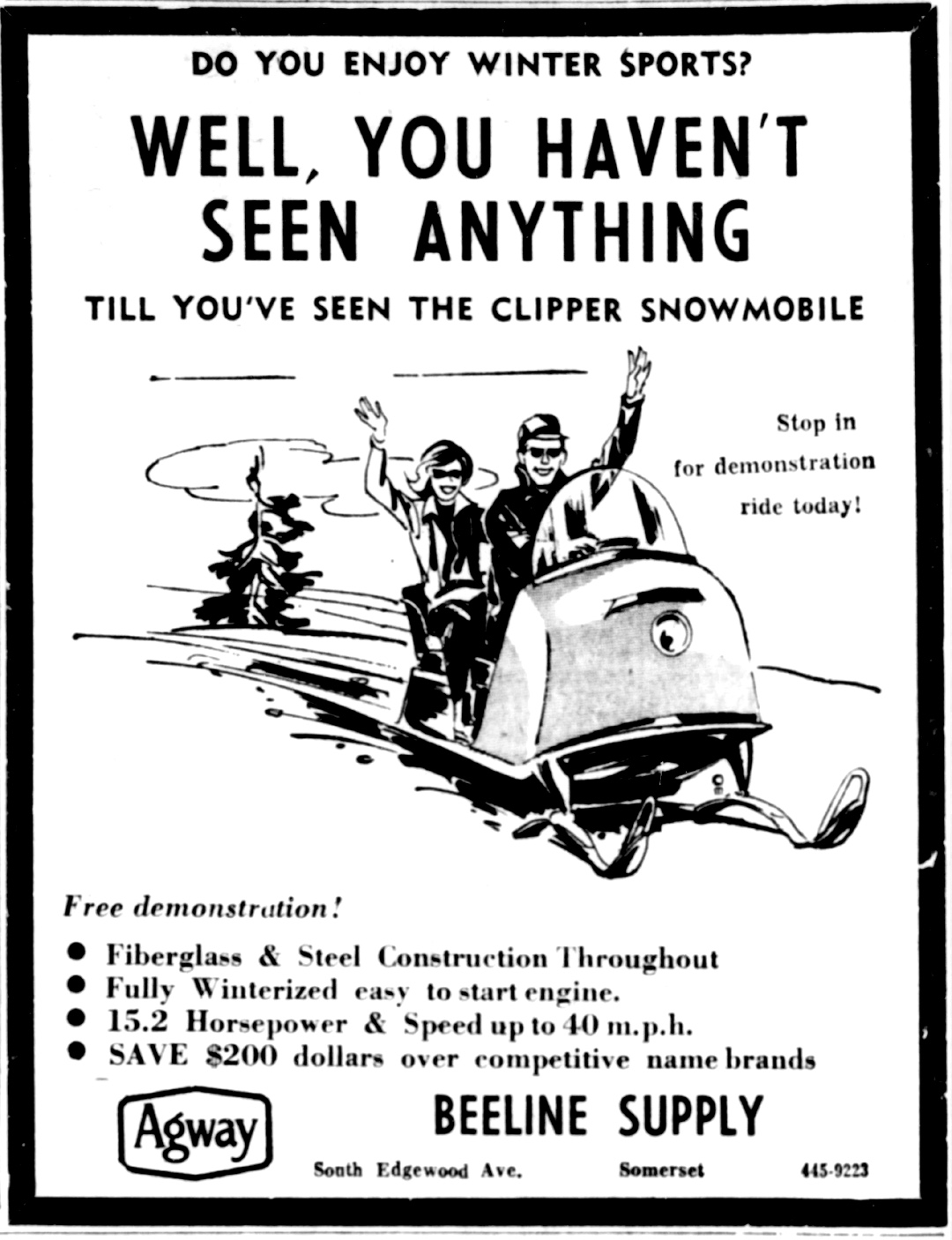 1967 CLIPPER SOLD IN AGWAY STORES.
THERE ARE 2 POSSIBILITIES HERE.
1. THIS CLIPPER WAS MADE BY POLARIS SNOWMOBILES.
BELOW IS A PICTURE OF THE 1966 POLARIS MUSTANG.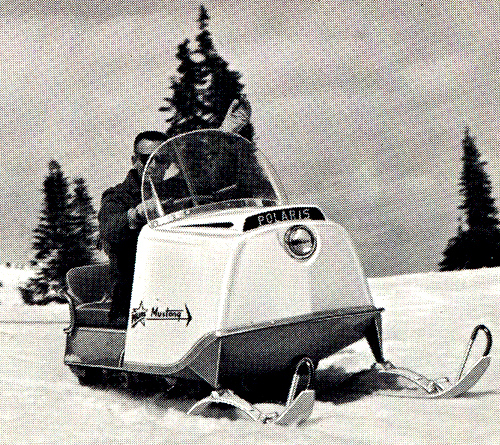 IT'S POSSIBLE THAT AGWAY BOUGHT SOME OF THE REMAINING 1966 POLARIS SNOWMOBILES AND
SOLD THEM AS 1967 CLIPPERS IN THE FALL OF 1966 AND THE EARLY MONTHS OF 1967.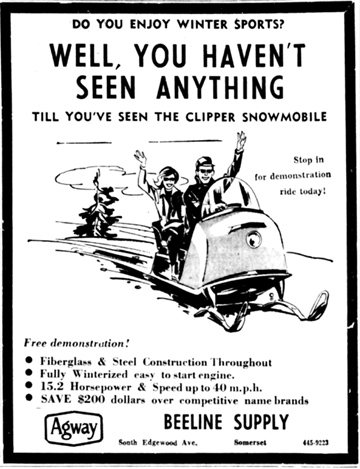 2. THIS CLIPPER IN THIS ( AD ABOVE ) WAS MADE BY SKI DADDLER.
IT MAY BE A PICTURE OF A POLARIS BUT THE 15.2 HP DOES NOT MATCH THE POLARIS SLED FOR 1966.
THE 15.2 HP DOES MATCH THE CLIPPER / SNO CLIPPER / SKI DADDLER FOR 1966.
ALSO, THE SAVE $ 200.00 TEXT MATCHES ALL OF THE ADS FOR 1966 SNO CLIPPER / CLIPPER ADS.
SOMEONE MAY HAVE USED A POLARIS SLED IN THIS AD INSTEAD OF USING THE SNO CLIPPER PICTURE.
THERE ARE HUNDREDS OF ADS IN THE LATE 60'S USING ONE COMPANY'S SLED PICTURE TO PROMOTE
A BRAND OF SNOWMOBILE THAT DID NOT REPRESENT THE SLED THAT WAS FOR SALE IN THE AD.
---
CONTINUED FROM PHOTO PAGE 18,764
LEFT HERE ON THIS PAGE AS A REFERENCE,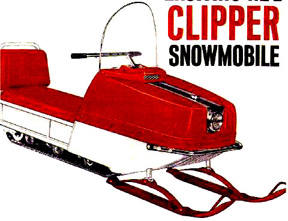 CLIPPER / SNO CLIPPER / SKI DADDLER - SNO SQUIRE
IT IS VERY HARD TO FIGURE OUT THE TRUE HISTORY OF CERTAIN BRANDS
OF SNOWMOBILES AS THERE IS LITTLE DOCUMENTATION OUT THERE.
OVER THE NEXT MANY PAGES, I WILL BE POSTING SOME INFORMATION ON
THE BRANDS LISTED ABOVE. IT'S ENOUGH TO MAKE YOUR HEAD SPIN TO
TRY TO FIGURE OUT WHY THEY ARE CALLED DIFFERENT NAMES IN ADS
AND WHO MADE THESE SLEDS TO SELL IN CERTAIN STORES.
AS FAR AS I KNOW, THE SQUARE SHAPE CLIPPER / SNO CLIPPER WERE
SOLD AT ONE TIME OR ANOTHER AT .........
SEARS, AND AGWAY STORES AND OTHER LOCATIONS / STORES.
LOOK AT THESE PICTURES AND COMPARE.
SKI DADDLER MADE THE CLIPPER AND SNO CLIPPER
THAT WERE SQUARE SHAPE.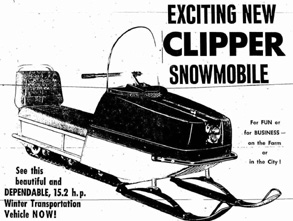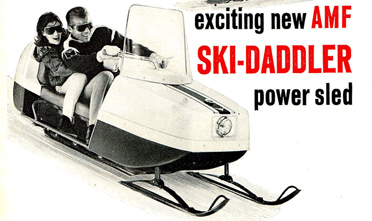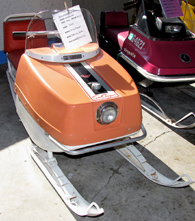 BELOW, NOW WE HAVE A SKI DADDLER / CLIPPER / SNO CLIPPER SLED THAT
IS CALLED SNO SQUIRE THAT IS BEING SOLD AT AGWAY IN JAN 1969.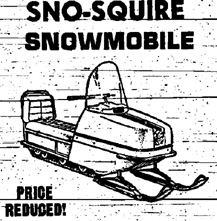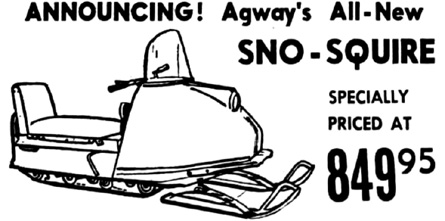 THIS IS WHAT THE 1968 SNO SQUIRE LOOKED LIKE.
NOW, BELOW, ADD INTO THIS SEGMENT THIS CLIPPER WHICH IS CERTAINLY
A POLARIS SNOWMOBILE THAT WAS MADE FOR AGWAY TO SELL IN THEIR
STORES AND IT MAKES YOU STOP AND WONDER.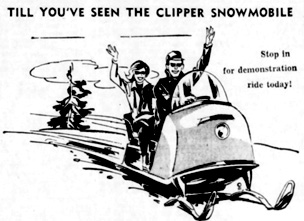 IF YOU HAVE ANY INFORMATION THAT YOU CAN SUPPLY ON THE HISTORY OF
THE CLIPPER, SNO CLIPPER, PLEASE EMAIL ME. THANKS. DAVID S.