DAVID'S VINTAGE SNOWMOBILE PAGE.
RESTORING THE SPORT ONE PIECE AT A TIME.
PAGE 19,405
---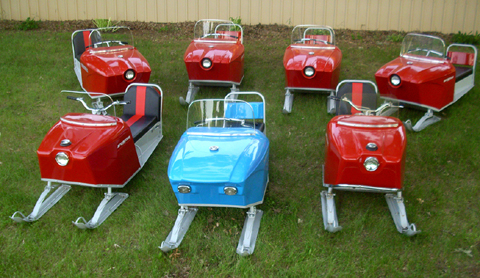 SNOSCOOT AND SNOW KING SNOWMOBILE HISTORY.
By Valdi Stefanson
PRODUCED BY ROBIN NODWELL.
An introduction to Robin Nodwell machines.
Robin Nodwell branded their snowmobiles as SNOSCOOT and SNOW KING.
The SnoScoots were red in colour and wholesaled through
regular Canadian power sports distribution channels.
The Snow King models were blue in colour and sold
through the Simpson's Sears stores in Canada.
However, we see blue Snow King models in Robin Nodwell promotional photos
which suggests that blue Snow King may also have been sold through regular
Canadian power sports distribution channels.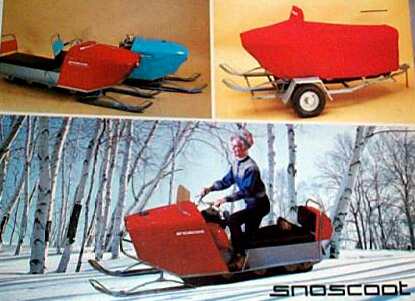 I think that we are safe in saying that the 1965 models were exclusively the
blue, dual headlight SNOW KING snowmobiles.
That is, no one has seen a dual headlight red hood.
Unit production numbers were low, and have been reported differently in
printed publications and websites. Using best available data, we estimate:
PRODUCTION NUMBERS
150 - 1965 Snow King snowmobiles, per manufacturer reports.
300 - 1966 SnoScoots
(some may have been blue and branded SNOW KING)"
25 - 1967 red SnoScoots reported by others,
but may well be more based on the numbers that have survived.
Total of approximately 475 units.
Valdi Stefanson
THANKS VALDI FOR THE GREAT PICTURES AND HISTORY
OF THE SNOSCOOT AND SNOW KING.