DAVID'S VINTAGE SNOWMOBILE PAGE.
RESTORING THE SPORT ONE PIECE AT A TIME.
PAGE 19,414
---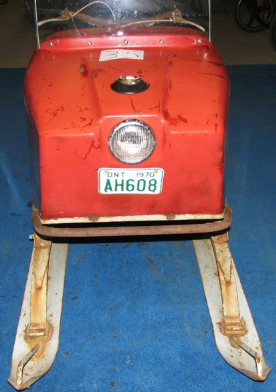 1967 SNOSCOOT SNOWMOBILE
MODEL 713
1967 Sno-Scoot 713
292 JLO - RARE SLED
Part Number: 035

These machines were manufactured in Calgary, Alberta Canada.
This 1967 Sno-Scoot is in a #6 original condition. The skis are original and in nice
condition. The front bumper is straight but needs re-chromed.
The hood is original and in nice condition with a 5_ patch on the top left rear.
The windshield may be original but is cracked. The handlebars are straight but need
re-chromed. The clutch guard is missing. The seat bottom looks like it may be original.
The seat back is missing. The tool compartment is in nice condition. The chassis is
straight with some light surface rust. The track looks to be in good condition.
The Boggies are in good condition with the rear set missing a mounting bolt.
The 292cc JLO engine has good compression. The recoil is missing.
Engine Size:1834c Serial Number:182 Engine Number:292-5717, model L292L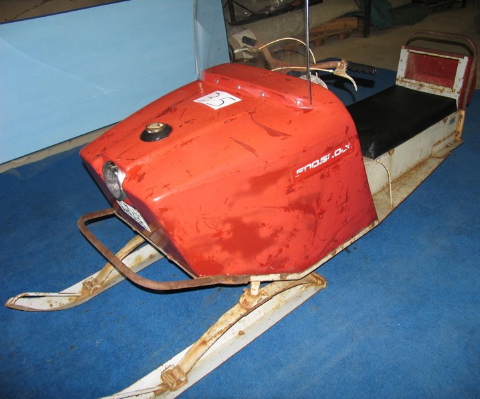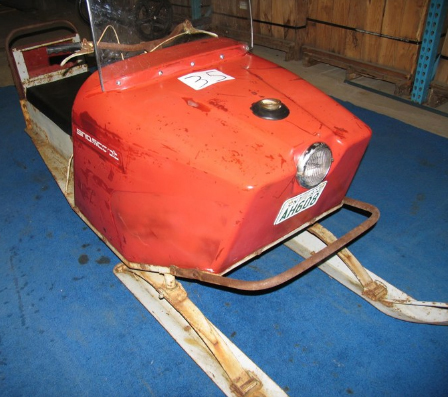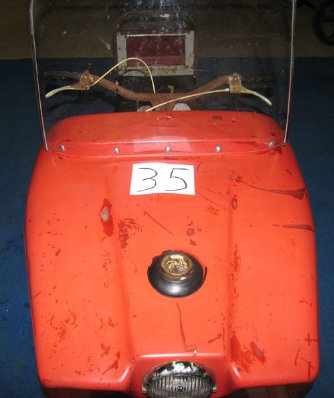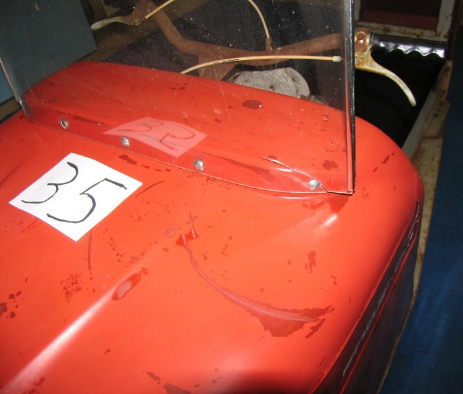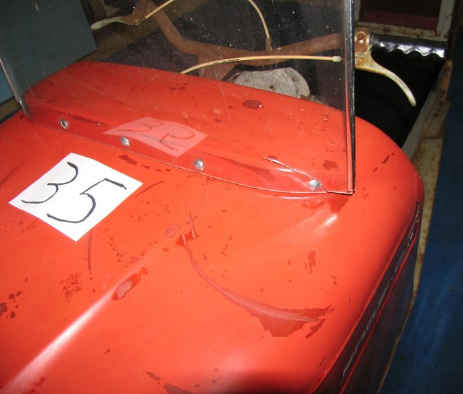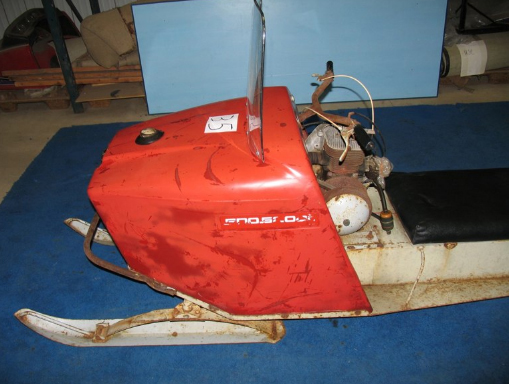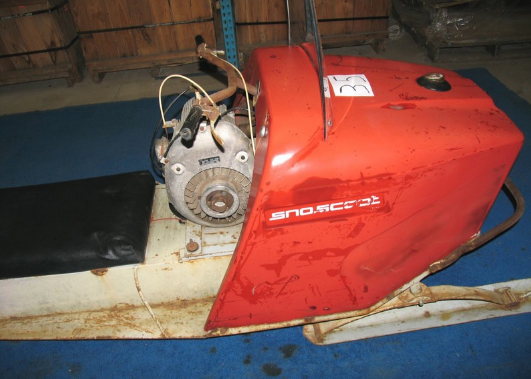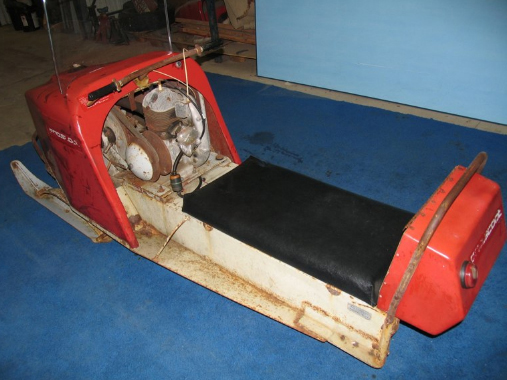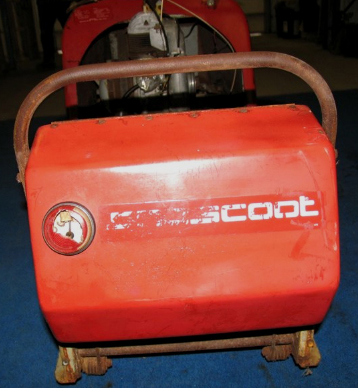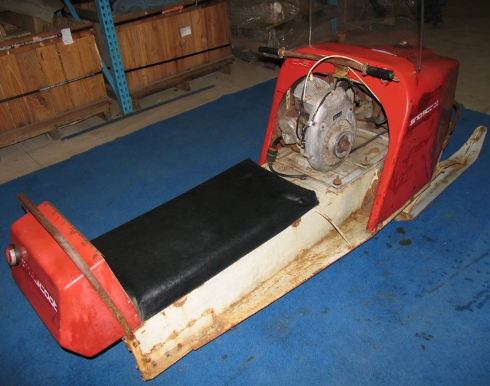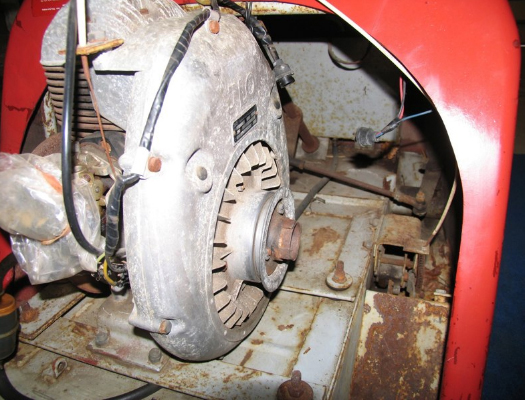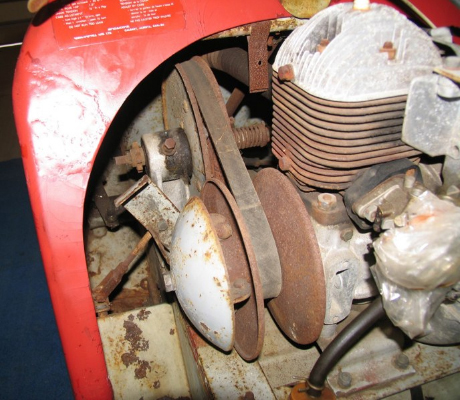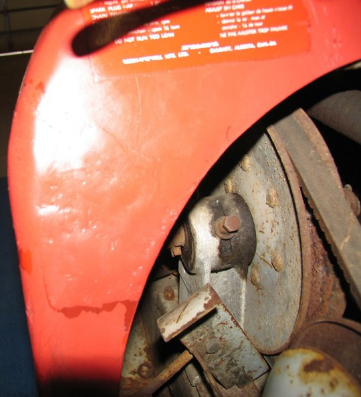 ---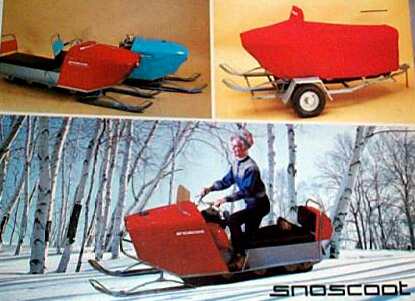 1967 SNOSCOOT SNOWMOBILE
PRODUCED BY ROBIN NODWELL
EVOLUTION OF THE SNOSCOOT.
I AM NOT SURE ABOUT THIS INFO BUT HERE IS WHAT I THINK.
THIS COLOR PICTURE ABOVE SHOWS A RED AND BLUE 1967 SNOSCOOT TOGETHER.
I THINK IT WAS THE REMAINING STOCK FROM THE PREVIOUS YEAR THAT WAS UNSOLD.
ALTHOUGH IT SHOWS A BLUE SNOSCOOT, I DO NOT KNOW IF ANY BLUE SNOSCOOTS
WERE MADE FOR THE 1967 MODEL YEAR. I HAVE NEVER SEEN ONE ANYWHERE.
SINCE ROBIN NODWELL SOLD BLUE 1966 SNOW KING SNOWMOBILES TO SIMPSON'S SEARS
FOR THE 1966 MODEL YEAR, THEY MAY HAVE PAINTED A FEW SNOSCOOTS IN
BLUE TO SEE IF THEY WOULD SELL TO THE DEALERS BUT SINCE THEY WERE NOT
SELLING WELL, THEY MAY HAVE TOLD THE DEALERS THAT THEY WERE AVAILABLE
ONLY IN RED FOR THE 1967 MODEL YEAR.
THE BOTTOM PART OF THAT PICTURE WITH THE WOMAN RIDING
BY THE BIRCH TREES SHOWS A 1967 SNOSCOOT SNOWMOBILE.
I BELIEVE THIS TO BE THE NEW HOOD AND GAS TANK FOR THE 1967 MODELS.
---
IF YOU HAVE ANY INFORMATION ABOUT SNOSCOOT SNOWMOBILES,
PLEASE EMAIL ME AS THERE ARE CONFLICTING STORIES ABOUT THIS BRAND.
I NEED YOUR HELP !
IF YOU HAVE THIS BROCHURE BELOW
SHOWING THE RED AND BLUE SNOSCOOT,
PLEASE EMAIL ME..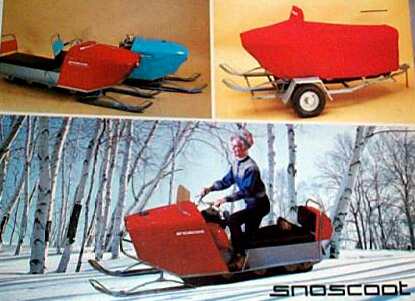 SNOSCOOT SNOWMOBILES
IF YOU HAVE THIS BROCHURE,
CAN YOU PLEASE EMAIL
ME A SCAN.
I WOULD BE VERY GRATEFUL.
DAVID S.
IN 2005, THIS BROCHURE WAS FOR SALE ON EBAY.
I DID NOT HAVE THE MONEY TO BUY IT AT THE TIME.
THIS WAS THE ONLY PICTURE IN THE EBAY AD.
IF YOU HAVE ANY INFORMATION ON SNOSCOOT, PLEASE EMAIL ME.
THANK YOU.
DAVID S