DAVID'S VINTAGE SNOWMOBILE PAGE.
RESTORING THE SPORT ONE PIECE AT A TIME.
PAGE 20,803
---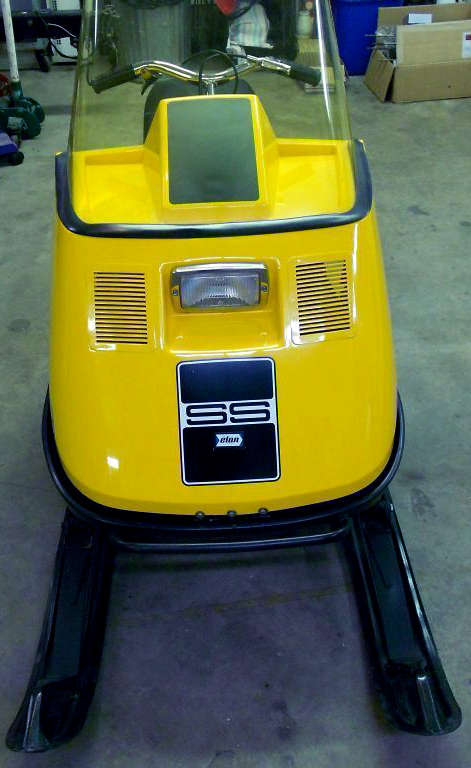 1972 SKI DOO ELAN SS 292
THIS 1972 SKI DOO ELAN WAS FOR SALE RECENTLY ON EBAY.
IT DID NOT SELL. IT IS PRETTY RARE SO I AM ADDING IT TO THE SITE IN CASE
SOMEONE IS LOOKING TO SEE PICTURES OD THIS MODEL.
BELOW IS HOW THE AD APPEARED ON EBAY. LATE 2015
---
1971 ski doo elan 292 ss serial 2011 00833 - December 1971.
in good condition for her age, starts easy runs great i drive it up and down my
driveway once in a while, hood perfect, original yellow windshield has few scuffs,
not bad, has new drive bearings in front and lube ,new belt, new OEM Gas tank
fuel lines , seat original has a small burn front left ,track original showing it
bogie wheels showing rubber cracks ,i have a new of rubber wheels not installed
the headlight chrome inside by the bulb was peeling so i painted it chrome for now,
looks fine. Its a nice little keepsake ,money problems forces me to sell which
happens to toys are the first to go. Sled was ridden off and on thru its life it did not sit
and rot like most old sleds, original cover has few holes from age.
This is a real 292 ss not a 250 ss sled.
adding that motor has not been repainted in any way,
the original motor paint is wearing away from age and use, thanks.
The machine is made in December 1971. has the TNT 292 Motor, HD Carb.
Remember you have to really hang on to starter handle when starting or it will
yank it right out of your hands. most will remember that they made big handles to
help start these singles, this one starts easy with a good pull.
it is new model for 1972- number 833 out of 1000 made.
with this motor combo, from what I'm told. hope this helps. thanks
Current bid:US $2,025.00
Reserve not met [ 47 bids ]